Lorcan Dillon, Child With Selective Mutism, Learns To Speak Thanks To Family Pet Jessi-Cat.
(source: Hffingtonpost.co.uk)
A family puss has been named National Cat of the Year, thanks for his role in enabling a little boy with an anxiety disorder to utter the words "I love you". The two-year-old feline, known as Jessi-Cat, was honoured at the
Cats Protection's National Cat Awards ceremony on Thursday
.
Jessi-Cat is a constant companion to seven-year-old Lorcan Dillon, who has
selective mutism
, a condition which affects his ability to speak and express himself and often leaves him feeling isolated and lonely.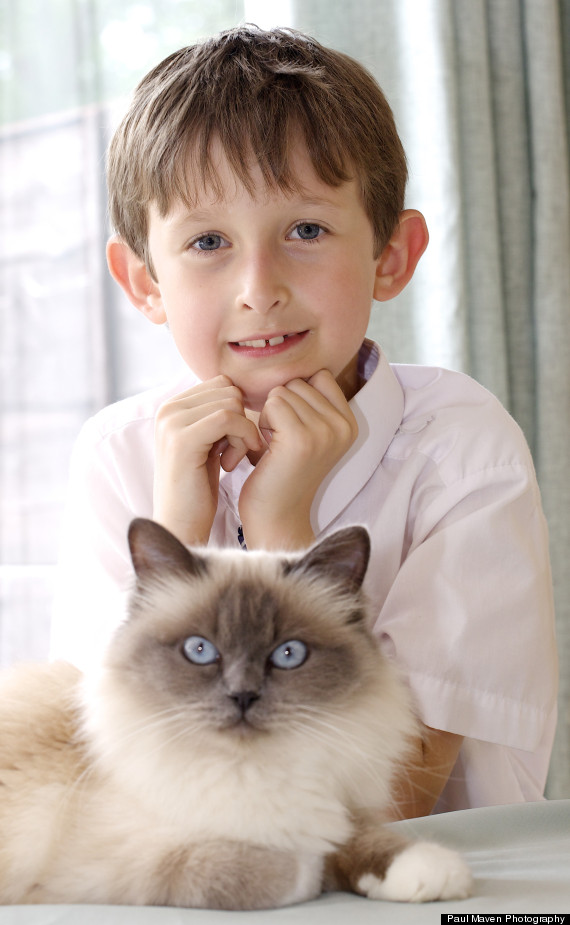 Forever friends: Lorcan Dillon and Jessi-Cat
Thanks to Jessi-Cat, Lorcan is finally able to say "I love you" and has learnt ways to share his emotions when he finds it difficult to speak to people.
The Cats Protection's National Cat Awards, sponsored by
Verdo
, are the UK's largest celebration of real-life stories of companionship, bravery and survival in the feline world.
At a ceremony at London's Savoy Hotel, winners were chosen in five categories – Best Friends, Hero Cat, Most Incredible Story, Outstanding Rescue Cat and Celebrity Cat.
Jessi-Cat was crowned overall winner after first winning the Best Friends category, chosen by celebrity judge, ex-YES keyboardist and star of Grumpy Old Men Rick Wakeman.
Rick said: "All three cats have been a huge support to their owners, but Jessi-Cat is my winner. The bond between Jessi-Cat and Lorcan is incredible and it has clearly had a hugely positive impact on Lorcan's home and school life. Jessi-Cat helps Lorcan to communicate and express emotions that ordinarily Lorcan wouldn't be able to do."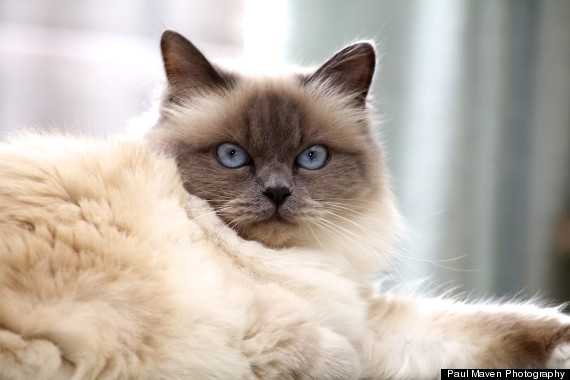 Jessi-Cat won the Best Friends category of the competition
Other celebrity judges attending the ceremony – hosted by 'Voice of the Balls' on BBC1's National Lottery TV programmes Alan Dedicoat – were comedian Ed Byrne, model Lucy Pinder and ex-BBC newsreader Jan Leeming.
Lorcan and his mother Jayne Dillon, 44, of Davyhulme, Greater Manchester, were at the awards ceremony to accept Jessi-Cat's prizes – a star shaped trophy, three months' supply of cat food, a year's supply of Verdo Cat Litter and a framed photograph of Jessi-Cat.
She said: "Lorcan is able to connect love to Jessi-Cat, something he can't do with people and she's been a great support to him when things have been really hard.
"He does not express his emotions, he would not say 'I love you Mummy', he just doesn't do it. But with the cat he can cuddle her, he can stroke her, he can talk to her and he can say 'I love you Jessi-Cat.'
"She is without a doubt the best friend a boy could have and has had a huge positive impact on his life. We've had her for a couple of years and in the last year alone he seems to be making excellent progress at school. In the past two weeks he's started communicating with people he doesn't know very well and even reads to one of the teachers now – something he's never done before."
Other category winners were:
Charley: Charley, of Haltwhistle, Northumberland, won the Hero Cat category after saving the day when owner Susan Marsh-Armstrong, 47, collapsed during a diabetic attack in the middle of the night. As Susan's life hung in the balance, quick-thinking Charley repeatedly patted her husband Kevin on the face until he woke and then led him to the bathroom where he discovered Susan unconscious on the floor and administered a glucose injection to bring her round.
William: William, of Chorley, Lancashire, won the Most Incredible Story category after making a gruelling half-a-mile journey home on two legs after his back legs were horrifically injured in a dog attack. Despite having one leg amputated the brave puss has since made a full recovery.
Phoenix: Phoenix, of Ballymoney, County Antrim, won the Outstanding Rescue Cat category after she made an extraordinary recovery from horrific burns. She was just a few weeks old when she was found in a coal bunker with hideous injuries but survived against the odds.
Simon's Cat: Scooping the award for the nation's favourite Celebrity Cat – chosen in a public vote on Cats Protection's Facebook page – was Simon's Cat, the animated moggy made famous worldwide in Simon Tofield's books and online cartoons.
According to Kate Bunting, the Awards organiser at Cats Protection, Jessi-Cat's story was an inspiring one.
She said: "The bond between Lorcan and Jessi-Cat is exceptional and it is truly moving to see what an incredible impact a cat can have on the whole family, particularly children.
"We hear many amazing stories of how cats have transformed people's lives, from elderly people living alone to children like Lorcan.
"There is no doubt that cats can have an incredible calming effect and their intuition, sensitivity and unconditional love can have an incredible impact on their owners."
Jessi-Cat follows in the paw prints of a long line of feline heroes honoured by Cats Protection. Previous winners have included
"moggy midwife" Marmite
who loyally stuck by his owner's side during a difficult pregnancy and labour, and Tee Cee who became a lifeline to his epileptic owner with his ability to detect when he was about to have a seizure.
Cats Protection has around 6,200 cats and kittens in its care at any one time and rehomes and reunites over 48,000 every year.